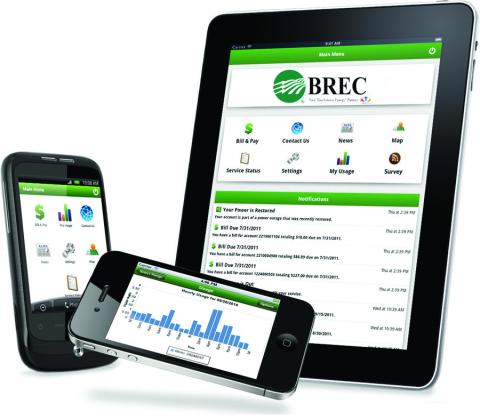 Pay your energy bill online 
Members of Black River Electric Cooperative now enjoy powerful new choices for managing their accounts.  BREC's new suite of member service software, which has been named Smarthub, offers new and improved account management through our existing website, as well as a mobile application for iPhone, iPad, and Android devices.  In addition to viewing and paying your bill using these products, members can receive text alerts when new bills are available, when their payment is posted, and when other events occur affecting their accounts.
Perhaps the most exciting feature of the new system is the ability to view and understand your electricity usage in greater detail than ever before.  The new state-of-the-art Meter Data Management System within Smarthub allows members to view kilowatt hour usage on a monthly, daily, and even hourly basis.   The system also overlays temperature data on the usage graphs allowing members to understand the direct impact that weather has on their bills. By better understanding how electricity is used each day, BREC members will be empowered to understand, manage and ultimately reduce their usage. 
Smarthub is available on the web by visiting https://brec.smarthub.coop or clicking on the Smarthub icon above.  The mobile apps are available by searching for Smarthub in the Apple App Store or in Google Play.