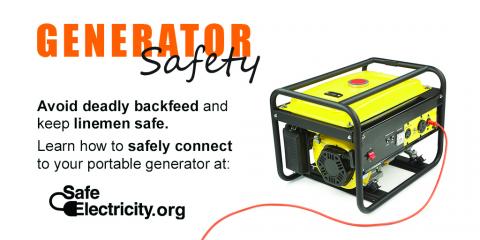 Electric generators can provide emergency backup power during outages and while convenient, they can also generate risks if not handled properly.
Never connect any generator directly to your electrical system without an approved transfer switch, installed by a licensed electrician. Direct connection  can lead to life-threatening back feed conditions, putting power restoration crews, the public and yourself at great risk of injury or death. 
Before selecting equipment, you should know the difference between standby (whole-house) generators and portable generators. Standby generation should be sized and installed by a qualified technician to meet your home's needs. They must be wired (through an approved transfer switch) to your home's electrical panel to protect your equipment and prevent backfeeding. 
Portable generators are not permanently attached to the home, and are designed to power appliances that are plugged into the generator. A portable generator should never be plugged directly into the home to avoid backfeed into the utility electrical system.
Safety first. Never connect a generator to your home's electrical system without an approved transfer switch. 

Never operate a generator of any kind without first reading all the manufacturers operating procedures. 

Make sure you properly vent fumes to prevent carbon monoxide poisoning.  

Avoid running the generator in areas where carbon monoxide can enter the home. Maintain at least three to four feet clearance on each side of the generator to aid with ventilation.

Always operate the generator on a level, dry surface.  Never use a generator with wet hands or while standing  in water. When possible, use extension cords and generators with additional ground fault circuit interrupter (GFCI) protection.  

Wait for engine to cool before refueling. Adding fuel to a hot generator, could start a fire. Always use the proper type of fuel, which should also be stored in an approved safety container.

Plug appliances into grounded, 3-prong extension cords rated for outdoor safety.  Remember, plugging the generator directly into the house could result in dangerous backfeed.  Check that the extension cord is free of damage. Follow all manufacturers  maintenance instructions.  

If you suspect that carbon monoxide is present in the house, seek fresh air immediately.  
For more information about generator and storm safety, visit brec.coop or SafeElectricity.org.